MIAMI GARDENS, Fla.— With a single tweet, American pro Jared Hiltzik became the online face of the resistance against the new ITF World Tennis Tour.
"It's tough," Hiltzik wrote on February 26. "Playing some of the best tennis of my life right now and at [No.] 350 I can't get into any Challengers. At this point in my career is it worth it to play futures? Or am I just taking away opportunities from other players who are just starting out?"
Hiltzik isn't alone in his contention with the new tour, which replaced the ITF Pro Circuit at the beginning of the 2019 season.
The structural overhaul was done to alleviate, as the ITF says, "financial pressures facing most players and the increasing time taken for players to break through into the Top 100. ... In response, the ATP, WTA and ITF are restructuring professional tennis so that prize money is better targeted; more players have potential to earn a living from the game; and so that there is a clear pathway connecting the ITF Junior Circuit and the senior professional game."
In essence, the ITF's changes aim to help more pros make a proper living then in the past, while establishing a clearer divide between tennis' lower (ITF) and higher (ATP) levels.
But what about players like Hiltzik, who are fighting to reach the ATP and its financial rewards, but cannot because of their ranking with the ITF?
Players at Hiltzik's level now have two professional tennis rankings: one for the ITF World Tennis Tour, and one for the ATP Tour. Each ranking is determined by ranking points earned at tournaments on the respective tours (with some exceptions). Hiltzik is currently ranked No. 383 on the ATP (with 43 points) and No. 324 on the ITF (with 240 points)—a "no man's zone." His ATP ranking isn't high enough to get him into Challenger tournaments, which are needed to boost his ATP ranking, so he's forced to drop down into the $15,000 and $25,000 ITF events, where can only earn ITF points, or extremely minimal ATP points.
Hence, Hiltzik's tweets—among many others on his timeline—which caught the eye of the ITF:
"The average ATP Challenger cut has been No. 344," Hiltzik told TENNIS.com last week in Miami. "In order for me to get from 355 to 344, I need 15 points. I'd have to win five $25,000s [tournaments, the equivalent of 25 matches] to jump up 11 spots, or I just have to win three rounds of an ATP Challenger."
Last year, winning a $15,000 ITF tournament earned a player 27 points, which would equate to a bump of roughly 40 spots in the ATP rankings.
An ATP Challenger will accept 40 ATP-ranked players into its draw, followed by the four highest ITF-ranked players. If a player doesn't get into an ATP Challenger, he can choose to play $15,000 and $25,000 events on the ITF World Tennis Tour. Winners of a $15,000 event earn 150 ITF ranking points and zero ATP ranking points. Winners of a $25,000 event earn 150 ITF ranking points and three ATP ranking points (one ATP ranking point is also given to the runner-up).
The current No. 1 on the men's ITF tour is Oriol Roca Battalla, with 1,100 points. His ATP ranking is No. 365.
"It's like the Web.com Tour with golf: There's a lower level and a higher level PGA Tour. It's what the ATP and ITF are trying to do, create this lower-level tournament schedule, which is fair," he said. "If their idea is to get 300 to 350 players to make money, that's good, but unfortunately tennis is different than golf."
With a more longevity that tennis players, golfers can afford to spend a year in their sport's lower rungs, grinding as opposed to earning. It's a tougher sell in tennis, a physically demanding game that leads to much shorter careers. Hiltzik, a 24-year-old University of Illinois graduate, is currently faced with a year or longer back at the bottom of the totem pole, when he was previously on the cusp of the Top 300.
"Last year towards the end of the season, I put myself in a good position. Had the changes not occurred I'd be close the Top 300 right now, but it is what it is," Hiltzik said.
One of Hiltzik's new challenges is plotting out his tournament schedule. While he could afford to be selective last season, he now finds himself entering the maximum five events per week, hoping to earn an entry anywhere. Then, if all goes well, he travels to wherever anywhere is.
With tournaments scattered all over the globe, travel can be prohibitive for Hiltzik, particularly if he wants to play back-to-back weeks.
"You don't know what your next tournament is going to be," Hiltzik said. "It's really hard to keep up that motivation. I go through practice days just existing out there. I saw two tournaments that I was going to get into, but they got cancelled."
Last week, two ATP Challengers were held in Lille, France and Zhangjiagang, China. In Lille, the closer of the two events, the last direct acceptances for main draw were Lucas Meidler, with an ATP ranking of No. 275, and Gregoire Jacq with an ITF ranking of No. 327. Hiltzik didn't stand a chance.
Despite Hiltzik's criticisms, the new ITF World Tennis Tour is benefitting a set of players, specifically those who played full-time on the ITF Pro Circuit in 2018 and earned substantial ITF ranking points. Their high ITF ranking means greater chance of snagging a coveted ITF spot into ATP Challenger events. Players inside the ATP Top 300 are receiving entry with their ATP rankings.
It's the players in the ATP No. 300-500 range, like Hiltzik, that are struggling the most.
Hiltzik's best option right now is to bite the bullet and enter ITF $15,000 and $25,000 events, with hopes of boosting his ITF ranking. It will be a grind, with little earning potential. Hiltzik realizes this, and sees these events as "just for fun," and not a feasible pathway to the ATP.
"Change is always scary," he said. "But with this change right now it's too drastic where the ITF Tour and the ATP Tour are too far away from each other. There's no middle ground for guys in my position."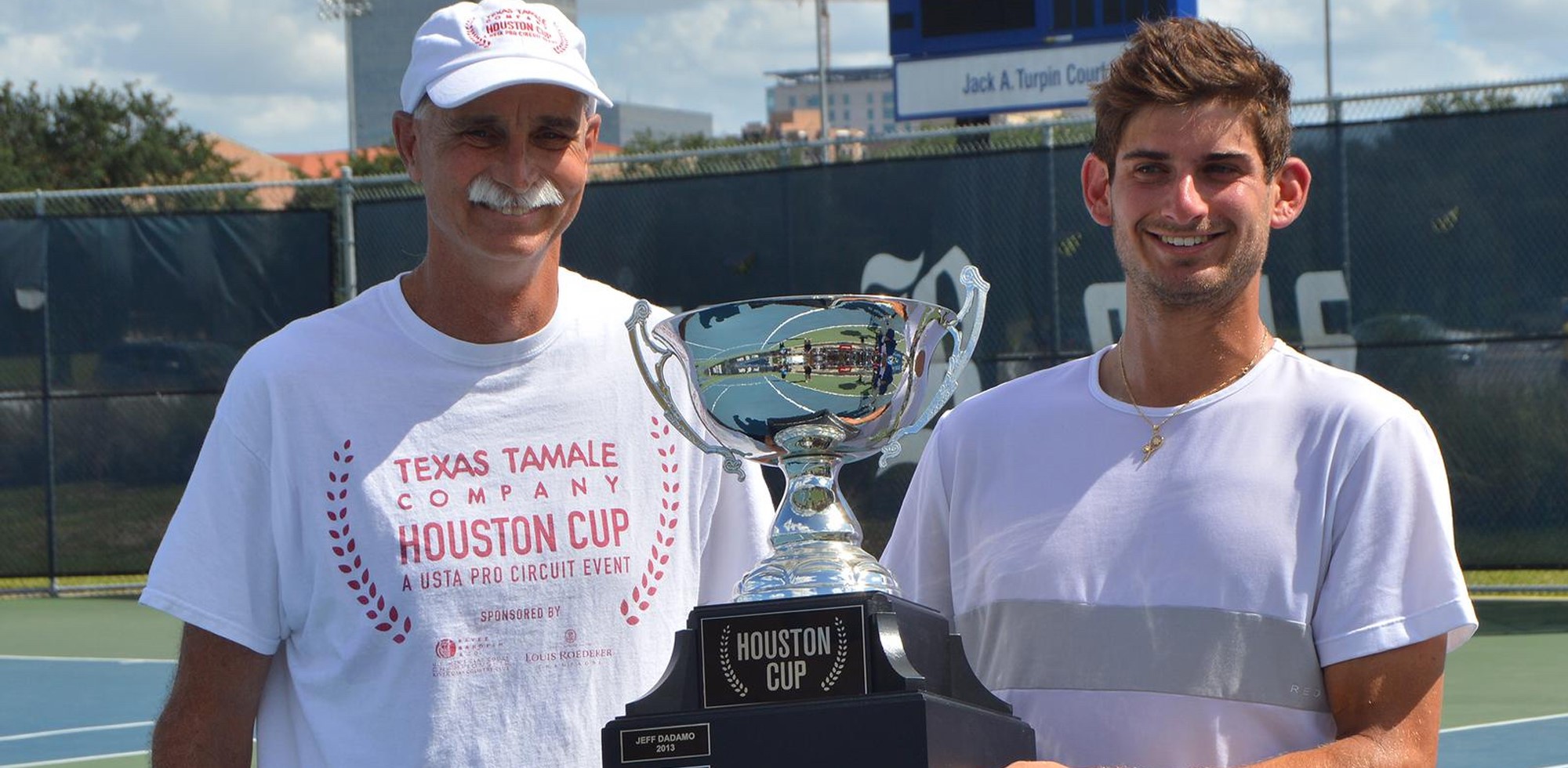 The three-time ITA All-American secured his first singles title since 2017.
October 14, 2018
Final Singles Main Draw | Jared Hiltzik ATP Bio | Illini On Tour
HOUSTON – Former Illini All-American, No. 2 seed Jared Hiltzik won the singles title at the USA F27 Futures in Houston, Texas on Sunday afternoon. The USTA-sanctioned event concluded on Sunday with the Wilmette, Ill. native coming back after the second round to defeat top seed Ronnie Schneider of the United States 6-4, 6-7(7), 7-5.
"Great for Jared (Hiltzik) to get back in the winner's circle," said head coach Brad Dancer. "Jared has all the tools to keep going in this sport. Sometimes the doubt creeps in and it is awesome for him to have a week like this where you battle through tough matches and find a way to win."
Hiltzik entered as the No. 2 seed in the main draw, opening the tournament with a 5-7, 6-2, 6-3 win over China's Zhe Zhou. In the second round, Hiltzik battled back after the first set to defeat current Sun Devil Dominik Kellovsky of the Czech Republic 6-7(6), 6-3, 6-3. This marked the seventh time this year that Hiltzik came back to win a match after losing the first set.
Quarterfinals action saw the four-time All-Big Ten honoree advancing to the semifinals after No. 7 seed Peter Bothwell of Ireland retired in the second set. Hiltzik won the first match, 6-2. During Saturday's semifinals, Hiltzik did not break, easily winning against former Texas A&M Aggie Jordi Arconada of Argentina 6-4, 6-1. Before Sunday, Hiltzik had dropped only two sets in the tournament, which came in the first and second rounds.
"I am very excited to be taking home the title in Houston," said Hiltzik. "I showed a grittiness in my performance that I have not seen out of myself in a long time, so I am happy to have found that."
In singles play, the title is the first for the former Illini since the 2017 USA F12 Futures in Memphis, Tenn. and second overall in his professional career. The American is currently ranked No. 462 in the world ATP rankings and has recorded a career-high of No. 339 on March 19, 2018.
"Moving forward, this helps with my confidence tremendously," noted Hiltzik. "Last week, I sat down with my coach, Troy Hahn, and we determined that it would be a good idea to play in the Houston Futures to gain some matches and give me the opportunity to have momentum going into the indoor challenger season. We accomplished exactly what we talked about and I am excited for the upcoming events."
Road to Victory
First Round | def. Zhe Zhou (CHN) 5-7 6-2 6-3
Second Round | def. Dominik Kellovsky (CZE) 6-7(6) 6-3 6-3
Quarterfinals | def. No. 7 Peter Bothwell (IRL) 6-4 2-2 (ret.)
Semifinals | def. Jordi Arconada (USA) 6-4, 6-1
Finals | def. Ronnie Schneider (USA) 6-4, 6-7(7), 7-5.
Follow Jared on Tour
Follow Jared on Twitter and Instagram for the latest information on his professional career.
The three-time ITA All-American earned the singles title at the ITF USA F12 Futures in Memphis
April 9, 2017
Jared Hiltzik ATP Bio | Illini on Tour
MEMPHIS – Former Illini All-American, Jared Hiltzik, won the first professional singles title of his career at the ITF USA F12 Futures in Memphis. The title is the fourth of Hiltzik's professional career after three doubles titles in 2016.
"Jared [Hiltzik] is on a great path," said Illinois head coach Brad Dancer. "He's doing a tremendous job of putting together a team for him to be successful at the next level. I'm proud of him for all the hard work and continuing vision. I am thrilled he was able to secure his first singles title."
Following a career-high world ATP ranking of 500 in singles and 466 in doubles on Monday, Hiltzik got right to work against No. 7-seeded Eric Quigley. Hiltzik earned an opening set win, but Quigley, ranked No. 313, forced a third set that Hiltzik took 7-5. In the round of 16, the Wilmette, Ill. native defeated Alexios Halebian, 7-6(5), 6-2. A solid, 6-3, 6-1 defeat of Christian Harrison in the quarterfinal earned Hiltzik a contest with No. 1 overall seed, Mackenzie McDonald.
McDonald won the 2016 NCAA singles and doubles title for the UCLA Bruins last May. On Saturday, Hiltzik took a three-set victory over McDonald, 6-2, 2-6, 6-4. In the Sunday final, Jared took on No. 487 Takanyi Garanganga. Hiltzik won the match, 6-3, 6-3 to secure the first professional singles title of his career.
Hiltzik and Garanganga will face off again in the first round of the ITF USA F13 Futures in Little Rock, Ark. early this week.
July 16, 2016 02:22 PM
By Ashley Marshall, USTA.com
Young Americans Tommy Paul and Jared Hiltzik are considered two of the brightest U.S. stars rising through the ranks. As part of their continued growth and development, the players are working alongside members of Team USA, getting first-hand insight into how the top pros in the world prepare for a top event.
Paul and Hiltzik (pictured above, front center) are with the U.S. Davis Cup squad competing this week against Croatia in Portland, Ore., serving as practice partners. They have been hitting with John Isner, Jack Sock and Mike and Bob Bryan and receiving coaching from U.S. captain Jim Courier.
"It's been amazing getting to practice with some of the best players in the worlds, guys that have won 16 Grand Slams in doubles, some of the best players of all time," Hiltzik said. "It's a great experience for me and I'm learning a lot. It's a lot of tennis, but I'm playing tournaments coming up so I couldn't ask for better preparation."
The experience is invaluable for up-and-coming players, especially for first-time Davis Cup practice squad members who are getting a taste of this level of international competition at a team event for the first time.
Many of America's top Davis Cup players started as practice partners before representing their country on the full team. Isner was a hitting partner at the 2007 Davis Cup semifinal in Sweden three years before he made his Team USA debut. Sock, meanwhile, first traveled with the team as a practice partner in the first-round tie against Serbia in Belgrade in 2010, five years before his first match against Uzbekistan last fall.
Over the past two years, several top young Americans have served as hitting partners for the first time, including Taylor Fritz and Michael Mmoh (in Tashkent, Uzbekistan) and Frances Tiafoe and Stefan Kozlov (in Glasgow, Scotland).
"It's cool getting to be so close to these guys and seeing how they prepare for a Davis Cup tie," said Paul. "It's definitely good to see how professional they are at a tournament and see their routines, so I can learn and hopefully try to learn to improve and play on the team. It's great to learn from them."
Paul is currently ranked No. 203 in the world, a few places below his career-high of No. 191, which he achieved this spring.
The 19-year-old New Jersey native started his season with consecutive clay-court Futures titles in Plantation, Fla., and Sunrise, Fla., adding to the Futures championships he won in Spain and Italy – also on clay courts – shortly after turning pro in 2015.
Paul came through qualifying to earn his way into the main draw of the Miami Open in March and played in the qualifying tournament for both Roland Garros in May and Wimbledon in June. He hopes this kind of experience practicing with Isner and Sock will send his game to new heights.
"I had a couple good results this year, but I'm looking to do a lot better," said Paul, who won the 2015 French Open juniors and reached the final of the US Open juniors later that summer. "The US Open Series is coming up, and all the Americans love playing the US Open Series and we all want to end the year really well. I'm looking to get a lot of good practice and get to know the guys better. I'm just looking to work hard. It's great to be challenging myself and working with the best in the world."
For Hiltzik, working with the Davis Cup squad has only increased his appetite to improve. Ranked No. 596 in the world, the 22-year-old says he hopes he is able to represent America one day, and that opportunities like these will help get his professional career off on the right foot.
"It's pretty exciting," said Hiltzik, who graduated this year from the University of Illinois, where he earned three All-America honors – only one of three players in program history to ever do so. "I get to dip my toes in this and it makes you pretty hungry. You want to be here competing in front of your country. I'm looking forward to it."
The Illinois native won his first USTA Pro Circuit doubles title this year at the USTA Pro Circuit Collegiate Series event in Winston-Salem, N.C., and he reached the singles final of a $25,000 Futures event in Wichita, Kan., last month.
But those experiences have paled in comparison to staring down an Isner serve or rallying with the Bryan brothers.
"It's unbelievable the energy that they have," Hiltzik said of the Bryan brothers. "It's truly awesome, every single point is played with so much purpose and energy, you learn a lot. And I've been practicing with John and Jack and it's just a bigger ball coming at me. It opens your eyes to where you games needs to progress and that's a good thing for me.
"It's crazy, I was listening to Jack in the press conference about what separates the top three guys in the world from everyone else and it's really small margins. It's just consistency and consistently playing at that high level."